STAY CONCEPT
In a port where the charms of Karatsu overlap
A special time in Karatsu
A trip to the five senses in the new local area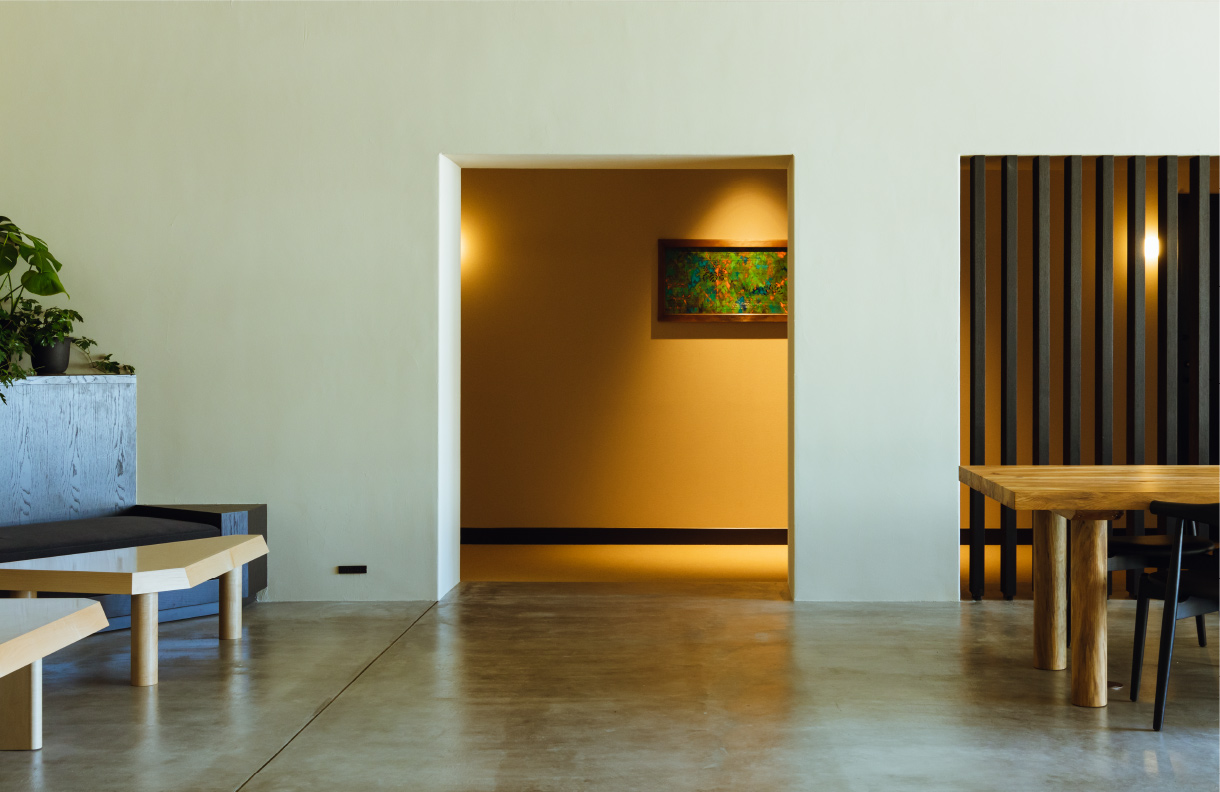 KARAE building where HOTEL KARAE is located, was built as a redevelopment project of a shopping street by a local community development company Iki Iki Karatsu.  With the hope of revitalizing the town, up-and-coming artists breathed life into the building materials and fittings of the former sake breweries that once existed in the area, creating a space that symbolizes the passing of the baton from past to present to future while recalling the history and traditions of Karatsu.
We believe that the entire city of Karatsu is a place for entertainment. And the hotel is a port for that entertainment where we hope to provide a time in Karatsu to suit each traveler. Therefore, the hotel's rooms are set up in a minimalist style, and the hotel serves as a medium to offer a variety of original plans, including food, experiences and vacations so that guests can enjoy various Karatsu STAYS.
HISTORY ART
中村 譲二

Joji Nakamura

In addition to Tokyo, Joji Nakamura has held exhibitions in Paris, Taiwan and elsewhere in Japan and abroad. He is as a painter who works as an exhibition curator and an editor of an art magazine. His activities include collaborations with fashion brands and creating jacket artwork for musicians. He was selected as one of the talented Japanese artists for the "ASIA NOW" exhibition in Paris (2018).

At HOTEL KARAE, he created drawing art for the Ranma (A type of fitting found in Japanese architectural styles) and Onigawara tiles (A general term for decorative tiles placed at the edge of the ridge of a tiled roof) found in the sake brewery.

ミズタユウジ

Yuji Mizuta

Yuji Mizuta has been active both in Japan and abroad, creating public art and collaborating with artists and brands. The motifs that emerge from his delicate and detailed conception are embodied in a variety of techniques such as drawing, collage, embroidery and printing, depending on the various stories behind them. His visual art work " Georgian Letter", won a Special prize at the Triennale CHIKUGO 2020 Special Prize

At HOTEL KARAE, he is working on textile art for a huge wooden sign "Senyu Fukumusuko (worrior comrades blessing son )" that was lying in the sake brewery at the entrance.

稲垣 美侑

Miyuki Inagaki

Since graduating from Tokyo National University in the Bachelor of Fine Arts Degree, Miyuki Inagaki has been active as an up-and-coming painter who participated in the "Ishibashi Foundation-Tokyo National University of the Arts Oil Painting Overseas Scholarship Exhibition," "Kameyama Triennale 2017," and the "Mie Paralandscape Exhibition" at the Mie Prefectural Art Museum and Public Collections at the "Minakami Collection." Through paintings and installations, she expresses a new world spread and connects from the scenery of the "land/place."

At HOTEL KARAE, the Ranma in the main building of the sake brewery is painted with the "town markers" of 14 floats of Karatsu's representative festival called " Karatsu Kunchi."

岡晋吾

Shingo Oka

Shingo Oka studied at the design and painting departments of Saga Prefectural Ceramic research Institute and later on trained under a cookery researcher and artist, Tadashi Shinoshima in the Hinzen area, in several different kilns. In 1993, he started his own business in Nishiarita Town. In 2003, he moved to Hamadama-cho, Karatsu City and built Tenpyo Kiln. His unique style of works is not limited to painting, but also dyeing, white porcelain and Annam, which is also known as "Oka Shingo ware" and is popular throughout Japan.

The entrance door handle of Hotel Karae which he produced are "majolica ware" pottery with motifs of pine trees and wisteria flowers that represent the landscape of Karatsu.

紙漉思考室

Kamisukishikoshitsu

Kamisukishikoshitsu is the name of the company founded by papermaker Maeda Takaji. Fascinated by Tosa washi paper, he learned to make paper by hand in Kochi, and became independent in 2007 in Nanayama Karatsu city which he has known since childhood. Based on the idea "paper is both a material and a means of expression," he actively collaborates with a variety of artists, architects and people in the apparel industry.

In the rooms at HOTEL KARAE, his works in the Papermaking Thinking Room are displayed as interior art.

レグナテック株式会社

Legnatec

Legnatec has been in business for 50 years and is a furniture design and manufacturing company with its showroom and sales office locally rooted in Saga. With the philosophy of "contributing to the development of people and society by creating products that bring excitement and happiness to people's lives," the company has been working with interior designers in Japan and abroad to create innovative furniture brands that convey the warmth of wood.

At HOTEL KARAE, there is the big table at the entrance made by jamo associates designed by sawing a 100-year-old pine beam that was used in a sake brewery.
MINIMAL STYLE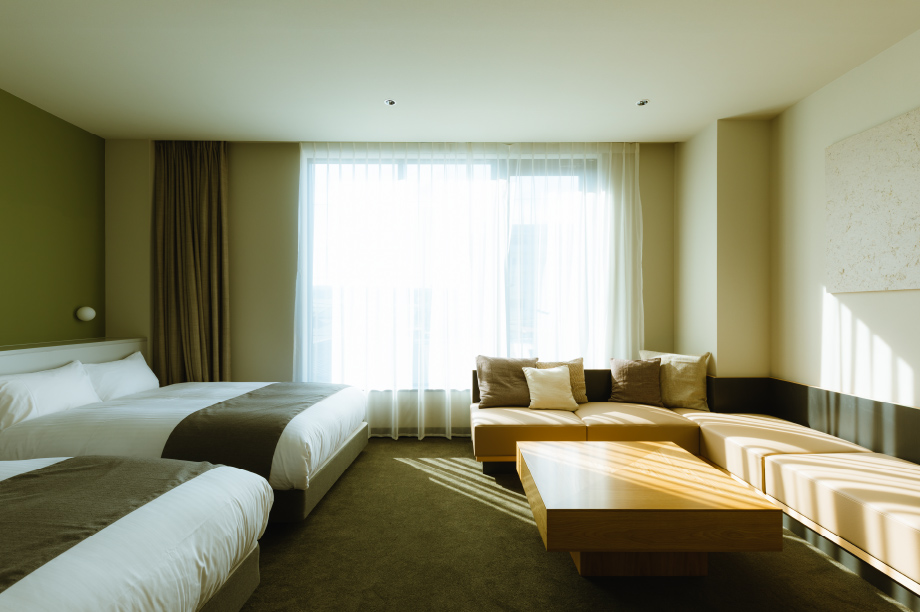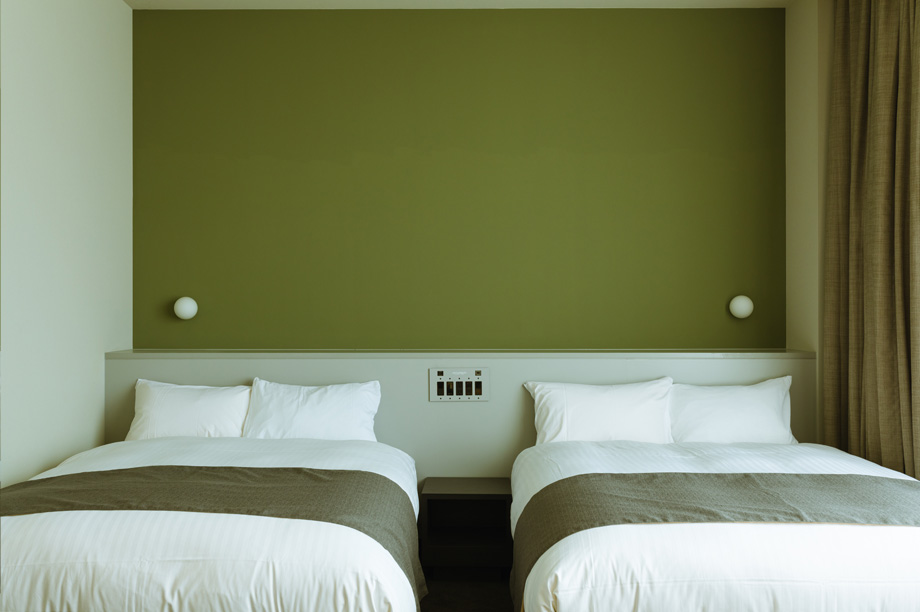 MINIMAL STYLE
HOTEL KARAE does not offer elegant luxury, sumptuous dining or relaxation services such as a spa. It because we want our guests to use the hotel as a base from which to explore and enjoy Karatsu city. The guest rooms are designed in the image of white sand and green pine trees and the service is minimalist. We are happy to help make your stay in Karatsu a pleasant experience for all five senses.
PORT HOTEL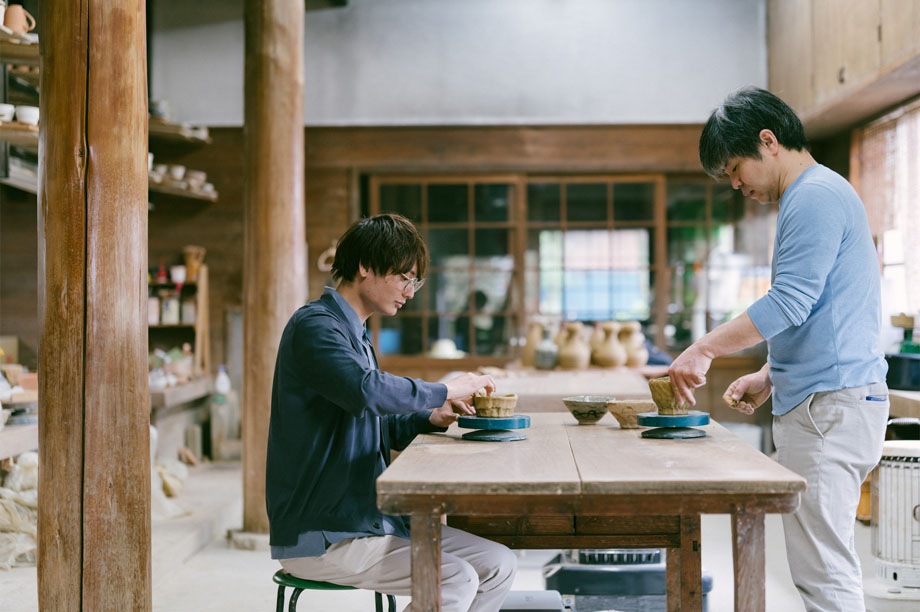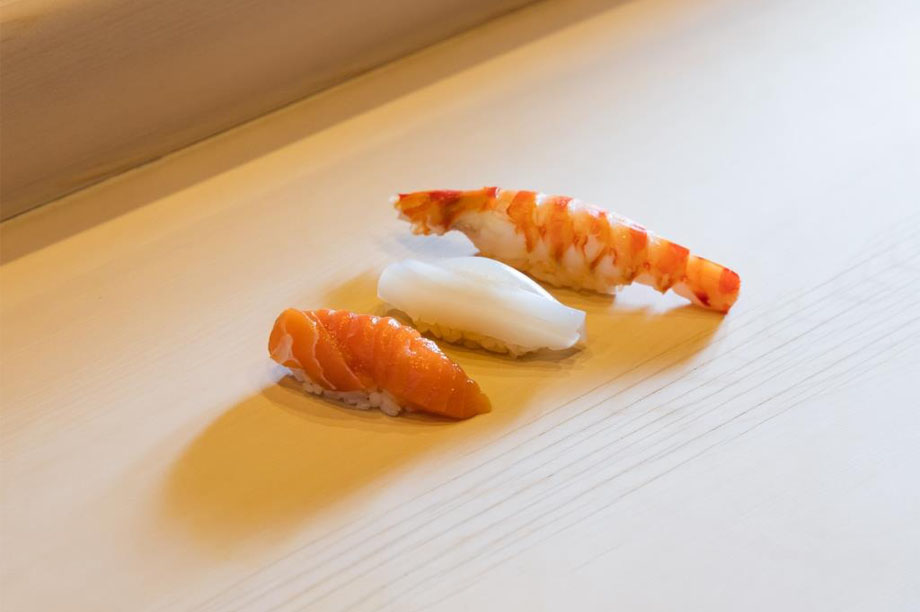 PORT HOTEL
HOTEL KARAE proposes various ways to enjoy Karatsu from difference angles so that it can be a port for various Karatsu trips for our guests. Karatsu is a well-known city of gourmet food and pottery. It is also rich in history and nature, interesting to walk around and has many activities. Therefore we have a variety of original plans that allow you to enjoy the charms of Karatsu such as gourmet food, kiln experience, guided town walking tours and SUP experience.